HERSHEY AREA ATTRACTIONS
Photo Gallery Rides and Attractions Roller Coasters Special Events History of Hersheypark Park Information Park Maps Hershey Area Attractions Dutch Wonderland Email me
---
ZOOAMERICA North American Wildlife Park
This eleven-acre zoo is located adjacent to Hersheypark, features five regions of the North American continent. At the Black Bear Encounter, you can observe black bears close up, complete with their very own pond. Admission to ZooAmerica is included with a Hersheypark ticket when entered from within the park, or you can enter through the year-round entrance located from Rte 743 (Park Avenue).
Click here to visit ZooAmerica's Website.
---
Visitor's Center
New for 2004! Hershey's Factory Works Experience- stop by and be a part of an interactive Hershey Chocolate Factory! Stop at the Hershey's Kiss manufacturing line and order fabulous desserts from the high-energized bakers known as the "Hershey-izers"! Afterwoards, grab a bite to eat at the new Kit Kat Gimme a Break Cafe. It's all new for 2004, only at Hershey's Chocolate World!
This a fun place to visit, and is located right outside Hersheypark's Main Entrance. The highlight of this fun attraction is the twelve-minute tour ride where you walk through a tropical jungle to a boat dock and then ride through the factory to see how HERSHEY'S Products are made. You receive a free sample of a HERSHEY product when you exit the tour ride. HERSHEY'S Really Big 3-D Show let's you see the Hershey's product characters come alive on the big screen in a funny show! HERSHEY'S CHOCOLATE WORLD is America's most popular corporate visitors center- surpassing even the White House, Ben and Jerry's, and the New York Stock Exchange.
Click
here
to visit Hershey's Chocolate World's website.
Check out my Hershey's Chocolate World Photo Page. (Photos coming soon!)
---
This attraction is located within walking distance of Hersheypark and HERSHEY'S CHOCOLATE WORLD. It features the history of the town of Hershey and has a display of Indian artifacts. Open year-round.
Click here to visit the Hershey Museum's Website.
---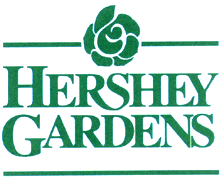 This beautiful botanical display is located across the street from Hersheypark, and features all different kinds of flowers and tulips. Also included is the Butterfly House, where you can see butterflies flying around!
Click here to visit the Hershey Gardens' Website.
---
If you are fascinated with the history of Hershey, then this is the place to visit. It is located just outside of the town of Hershey not far from Hersheypark.
Click here to visit the Hershey Archives Website.
---
HERSHEYPARK Sports and Entertainment Complex
This state-of-the-art complex features four venues:
| | |
| --- | --- |
| | Giant Center- world class arena which is the home of the AHL Hershey Bears hockey team. When the Bears aren't on the ice, GIANT Center also hosts big name concerts and sporting events year-round. |
| | |
| | Hersheypark Arena- proudly served the Hershey Bears hockey team from 1936 to April of 2002 before their move to GIANT Center. The arena still hosts concerts, events and public ice skating. |
| | |
| | Hersheypark Stadium- high class facility with a natural turf field hosts a wide variety of outdoor sporting events and concerts including the CREATION Festival in 1996 and 2003. |
| | |
| | Star Pavilion- the place for all the big name summer concerts in town. |