STORM RUNNER AT HERSHEYPARK
Photo Gallery Rides and Attractions Roller Coasters Special Events History of Hersheypark Park Information Park Maps Hershey Area Attractions Dutch Wonderland Email me
---
Welcome to Hersheypark Crazy's Storm Runner page. Here, You will find information, stats and photos of Hersheypark's new coaster, Storm Runner.
This high speed rocket coaster takes you from 0 to 72 mph in two seconds and up a 150 foot top hat element (twisting 90 degrees on the way up) and then a straight non-twisting 180 foot vertical dive down the other side and into a 135 foot cobra loop and flying snake dive which is similar to a barrel roll before hitting a small group of hills and into the brakes. Silver supports and red track and yellow trains with over-the-shoulder restraints round out to make this one of Hershey's greatest coasters ever built.
Keep up to date with the construction of Storm Runner by clicking here!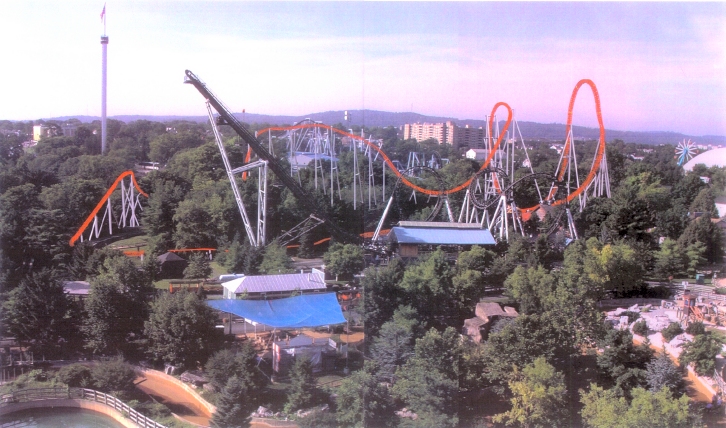 Artist's rendering of Storm Runner.
| | | |
| --- | --- | --- |
| | | |
| HP Skyline before Storm Runner | | HP Skyline with Storm Runner |
STORM RUNNER FACTS AND FIGURES!
RIDE SPECIFICATIONS:
TIME, SPEED, CAPACITY
Track Length: 2,600 feet
Launch Speed: approximately 0-72 mph in 2 seconds
Lift Height: 150 feet
Drop Speed: approximately 75 mph
Angle of Lift Hill: approximately 90 degrees
Theoretical Capacity: 1,200 riders per hour
Vertical Drop: 180 feet
Number of Trains: two
Angle of Descent: approximately 90 degrees
Capacity Per Train: 20 riders
Approximate Ride Time: 60 seconds

DESIGN FEATURES
Ride Manufacturer: Intamin AG, Switzerland
Ride Supplier: Intaride LLC, United States
Model: Rocket Coaster with Inversion (World's First!)
Sturcture: Steel Tubular Track
Features: Hydraulic launch system, magnetic braking system, dual station load/unload
Elements: Top hat (150 ft.), Cobra Loop (135 ft.), Barrel Rolls, and Flying Snake Dive
Color Scheme: Red Track, silver columns, Yellow Trains with red trim
Restraint System: Over the shoulder restraint, Padded head restraint, Interlocking safety belts
Other Information: Interacts with three other existing rides: the Capital BlueCross monorail, Dry Gulch Railroad and the Trailblazer
PHOTOS
Click here to see my photos taken of Storm Runner.
For the latest in construction information and photos click here!