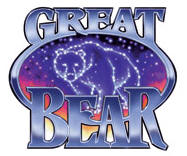 This is another one of my favorite rides in the park! When Great Bear debuted in May of 1998, it was known for being "Pennsylvania's only steel inverted roller coaster" until Talon debuted at Dorney Park located in Allentown, Pennsylvania. It is truly another fine Bollinger and Mabillard (B&M as it is well known) inverted coaster but is shorter in comparison to other B&M inverted coasters such as Raptor at Cedar Point and Montu at Busch Gardens Tampa Bay. Although it does feature some well known inversions such as the vertical loop, immelmann, barrel roll and a corkscrew. Another neat feature is the unique helix that was placed between the lift hill and the first drop.
GREAT BEAR STATISTICS:
Designed by: Bollinger & Mabillard, Switzerland
Track Length: 175 seconds
Type: Steel Inverted
Themed Area: Minetown
Height of Lift: 90 feet
Top Speed: 58 mph.
Year Constructed: 1998
RATING: 11
PHOTOS OF GREAT BEAR: